Programme 2021/22
The cost will generally be £3 per person for HPS members and £5 per person for non-members, though it may be higher for some speakers, plus £1 for each raffle ticket. The ticket cost will be included in the meeting details for each speaker.
The funds raised go towards the cost of our speakers and improving our future programme as well as towards our raffle prizes (raffle tickets are optional of course). Now that we are back to meeting in this larger hall, we have also taken the opportunity to invest some of the proceeds of last season's programme into a new projector: being able to show larger clearer images will be of real benefit for our speakers and all of us.
To book your place/s, please contact
monmouthshirehps@gmail.com.
Please do not pay until we have confirmed your reservation. We expect to have enough capacity but if oversubscribed, priority in booking will be given to HPS members in the order of when we received their booking requests and payments.(In the unlikely event that place/s have to be withdrawn, or the talk is cancelled or moved to Zoom, those who've booked and paid will be notified by email and, where appropriate, a refund or carry forward of payment arranged.)
11th December 2021. 2.30pm
Wreath Making Workshop
Amanda Rayner, Wyldwood Willow
https://www.wyldwoodwillow.co.uk
Amanda owns Wyldwood Willow, a small company based in Monmouthshire.
She made her first basket over 20 years ago and specialises in creating natural handwoven willow products using traditional skills with a modern twist. In this workshop she will share her expertise for you to put into practice and make a personalisedChristmas wreath
Those of you who've been members for while will know that we usually do something seasonal and different for the festive season. This workshop should be fun as we all create something to take home. 
Entrance to the hall will be for those with confirmed and paid bookings only. The cost will be £15 per person for HPS members and £18 per person for non-members, plus (optional) £1 for each raffle ticket.
15th January 2022 2.30pm Zoom
Protecting the UK from Plant Pests and Diseases
Dr Nicola Spence, Chief Plant Health Officer, DEFRA
Nicola is a graduate Botanist with a PhD in plant virology. She was a scientific researcher in plant virology at Horticulture Research International and Fera, was Chief Executive of Science City York and became Chief Plant Health Officer in 2014. She is also Deputy Director for Plant and Bee Health.
Nicola has made several media appearances in relation to her work at Defra. In April 2016 she appeared on the Today Programme to discuss the finding of a resistant ashtree in Norfolk and has also appeared on the BBC Countryfile programme. She has also been a guest on Farming Today discussing tree diseases in the UK. In 2016, she was involved in the management of the Asian hornet outbreak response, and appeared on the World at One to explain Asian hornet biology and the Defra response to the outbreak.
12th February 2022. 2.30pm
'Why Wait for Spring?'
Helen Picton, Old Court Nurseries
https://www.autumnasters.co.uk
12th March, 2022. 2.30pm
Structure and Sparkle in the Garden
Jane Moore, Head Gardener, Bath Priory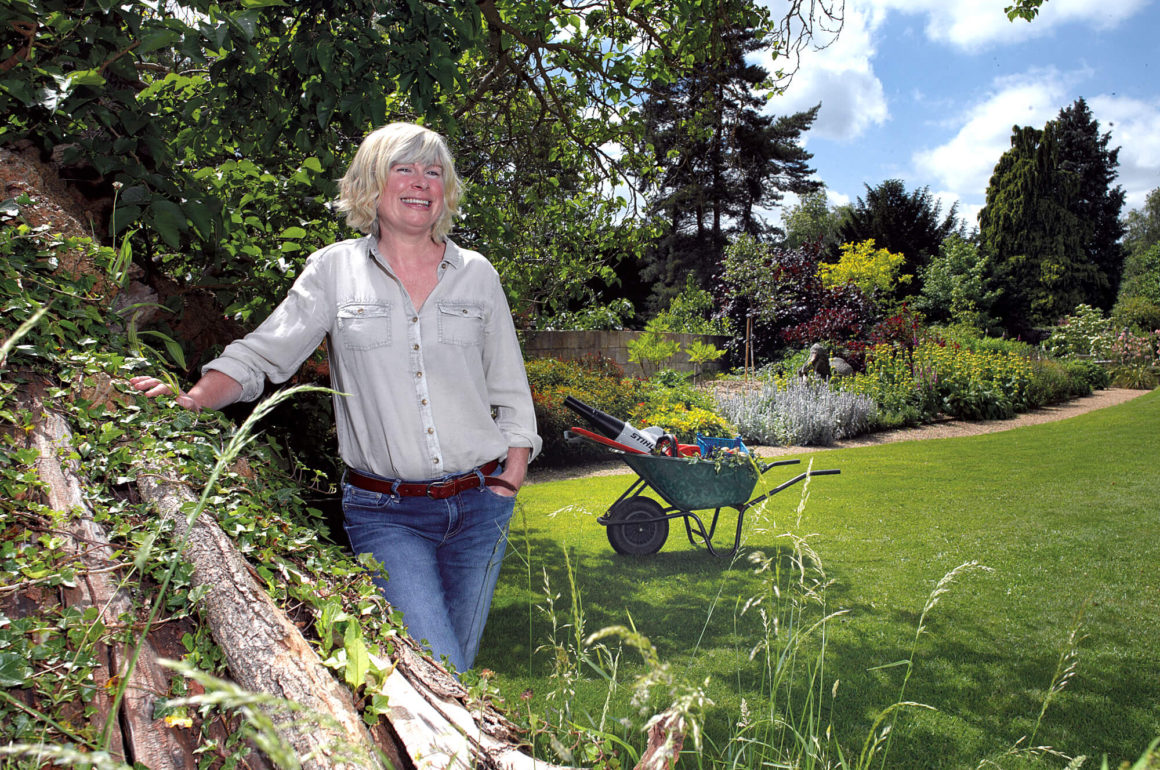 Jane is a hands-on head gardener, an award-winning gardening journalist and a regular speaker at gardening clubs and events. 'I'm a bit of a horticultural adventurer, embracing diverse challenges such as planting a National Collection, creating a small garden at Chelsea Flower Show and guest presenting on BBC Gardeners' World'.
As well as numerous awards for her garden writing she has also won the Relais & Chateaux garden Trophy for the garden at The Bath Priory and an RHS medal for the creation of 'The Mini Garden' at Chelsea Flower Show in 2003. She has worked with famous garden designers including Arne Maynard, Cleve West and Diarmuid Gavin.
The things we often notice about gardens are the stand out plants, the Wow factor that all good gardens have, but these are often just the highlights, the 'sparkle' of each season. Equally important is the 'bone structure' of the garden, those stalwart shrubs and trees that provide the all important foundation.
In this talk, Jane takes us through her seasonal star performers, extolling their virtues with examples from her garden, suggesting how to place them to grab the spotlight, and setting the stage with a backdrop of shrubs that she considers her reliable supporting cast.
9th April 2022. 2.30pm
North American Plants in British Gardens
Dr Keith Ferguson, Botanist, Plantsman
http://www.ebotany.co.uk
Keith trained as a professional botanist, worked in the USA for a period and then spent 29 years at RBG Kew, retiring as Deputy Keeper of the Herbarium and Head of the Pollen Unit there. He and his wife Lorna, also an ex-professional Botanist, moved to Gloucestershire in 1996 and since retirement have created a new garden at their home in Longhope. They are both keen gardeners and plantsmen and have been members of the RHS for more than 45 years and the HPS some 40 years. Keith is widely travelled, especially in the USA. He has written regularly for The Hardy Plant over recent years and has had articles published in The Plantsman, The Bulletin of the Hardy Plant Society of Oregon and in Plant Heritage.
Many of our garden plants originate from North American wild flowers, shrubs and trees. Plants are shown region by region across the continent from the Appalachians to California both in the wild and in cultivation in British gardens. Cultural requirements are discussed in relation to native habitats. Plants we know and grow include Phlox, Tradescantia, Solidago, Michaelmas daisies and many other plants of our herbaceous borders not to mention shrubs, trees. woodland perennials and alpines.
27th April 2022. 2.30pm. ZOOM
Fifty Shades of Green
Razvan Chisu, The Transylvanian Gardener
http://razvanchisu.blogspot.com
Razvan is a garden designer, editor of the Saxifrage Magazine (Saxifrage Society) and writes for various other gardening magazines. He also offer horticultural consultancy and has been giving talks to gardening groups and conferences for the past 5 years.
He grew up in Transylvania in a town surrounded by vast woodlands and species-rich wildlife meadows, a fact that has influenced the way he designs and maintain gardens. His interests range from alpine plants and bulbs, succulents, fruit and heirloom vegetables, ferns and orchids, to perennials and shrubs.
Fifty shades of green – Versatile foliage plants and the diversity of leaves – A lecture that starts by exploring leaves in their diversity of shapes, sizes, colours and textures and then gives examples of how foliage plants can be used to great effect in the garden, including the display Razvan designed at the 2015 RHS Tatton Flower Show for the HPS.
14th May 2022. 2.30pm
Roses
Dean Peckett,
Passionate Horticulturalist, with 35 years professional experience in practical horticulture. Horticultural advisor, designer, writer and lecturer.
Dean is a respected professional Horticulturalist with over 35 years' experience in Horticulture. Dean studied at Askham Bryan and Merrist Wood college whilst undertaking an apprenticeship at Chatsworth House, Derbyshire and Sheffield Parks. Dean then spent 20 years working for the Royal Horticultural Society in the role of Garden Manager and Garden Superintendent at RHS Wisley and RHS Harlow Carr specialising in garden team management, horticultural training, garden design, RHS shows advisory and media. In more recent times Dean managed Fort Belvedere, Crown Estate in Berkshire for 10 years and then relocated to South Wales 2 years ago to work for Arne Maynard Garden Design. Dean now manages his own Garden Advisory & Design business. Dean is an experienced lecturer and passionate gardener.
Dean will talk about selection, cultivation, pruning and training of roses.